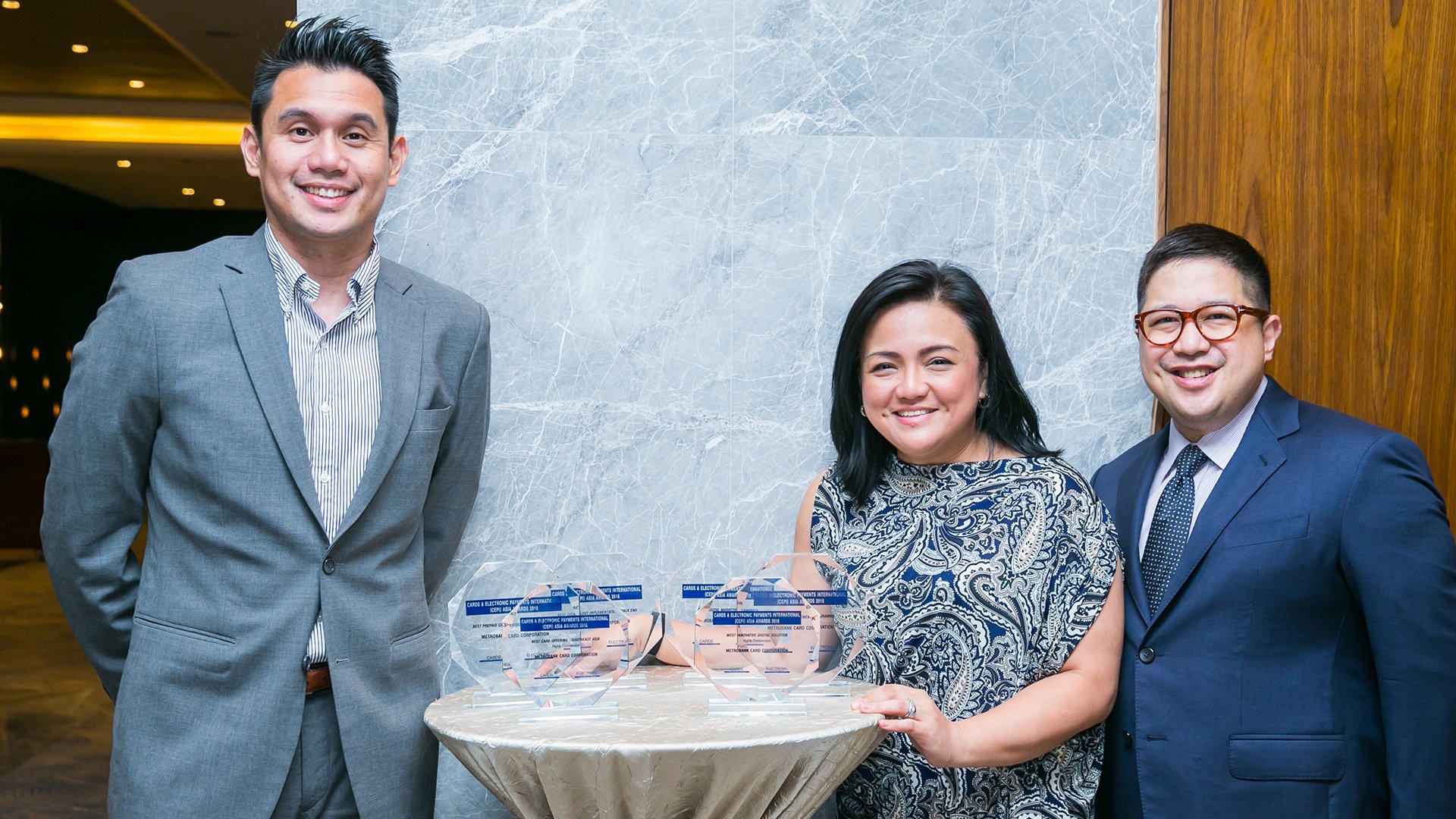 In photo (L-R): Metrobank Card Head of Marketing Francis Ramon Tioseco, Deputy Cards Head Peaches Cuenco, and Head of Prepaid and Insurance Business Aloy Alday
Metrobank Card Corporation (MCC) is a proud winner of four major awards and two high commendations from the recently concluded Cards and Electronic Payments International Asia Awards (CEPI) 2018.
Yazz Prepaid Visa has been awarded the Best Prepaid Card Product for Asia Pacific. With more than 60 million uncarded Filipinos, MCC through Yazz Prepaid Visa has allowed the opportunity for consumers to own a card product with all the benefits and payment convenience of a regular credit card. This reloadable general purpose prepaid card can be loaded in over 10,000 major retail establishments nationwide, easily send and receive money transfers, withdraw cash from a BancNet ATM, purchase from VISA accredited stores, perform online transactions, and safely maintain savings without opening a bank account. Yazz Prepaid Visa further empowers its cardholders with a web tool and mobile application for easy fund management. Yazz Prepaid Visa supports the drive of the country towards cashless transactions given the rise of electronic payment channels and the need for secured payment.
The first digital National Usage Program of MCC to introduce a full digital experience from entry, to distribution and redemption, the Winzone has been cited as the Best Brand Engagement Programme. The Winzone gamification concept was aimed at increasing cardholder activation and spending, while generating cost efficiencies. The emergence and adoption of digitalization on banking services have strengthened MCC's commitment to adopt digital functionalities for its existing usage programs to proliferate card usage, pursue untapped segments and enhance the overall customer experience.
The recently launched social media Lead Generation Program of MCC has won the Best Digital Marketing Campaign. As the Philippines remain to be the social networking capital of the world, MCC has leveraged on the power of social connectivity to serve more consumers and reach potential new cardholders by making credit card application easier, faster and more convenient through tools and technology consumers use on a daily basis, made available through digital platforms as Facebook and Instagram.
MCC leaps ahead of competition by making the move from hardware to the cloud as a part of its commitment to digital innovation, winning the award for the Best Technology Implementation - Back End. Through VMware's virtualization and cloud solutions, MCC is able to efficiently roll out new products and services through a modern IT that is streamlined, swift and secure. In addition, this technology implementation has also been cited as the official Philippine case study for VMware's 2018 CIO Forum in Singapore aimed to overcome digital impasse to pursue greater digital transformation.
Rounding up the awards are Highly Commended citations for the Most Innovative Digital Solution category, together with the Best Card Offering for South East Asia for Metrobank Travel Platinum Visa. All other competitive products in the travel category were either airline co-brands or a combination of air miles from different carriers before MCC introduced the Metrobank Travel Platinum Visa as a complete travel card with features and benefits including triple rewards on airfare and hotels, unlimited airport lounge access, free travel insurance up to P5 million coverage, with various year-long exclusive promos. In addition, it has been awarded as the Best New Product 2017 by Visa Philippines at the Visa Card Center Managers Forum last October 24, 2017 at the Manila Polo Club.
The CEPI Asia Awards brings together the best-of-breed players in the cards and payments landscape in Asia-Pacific to celebrate the best and most innovative institutions and projects; and highlight noteworthy initiatives that have established a strong foothold in the Asia-Pacific region over the last 18 months. CEPI recognizes market-leading offerings in cards, mobile and e-payments, remittances, merchant acquiring, and marketing campaigns in each of the Asia-Pacific region's key markets through awards from card design to CSR initiatives.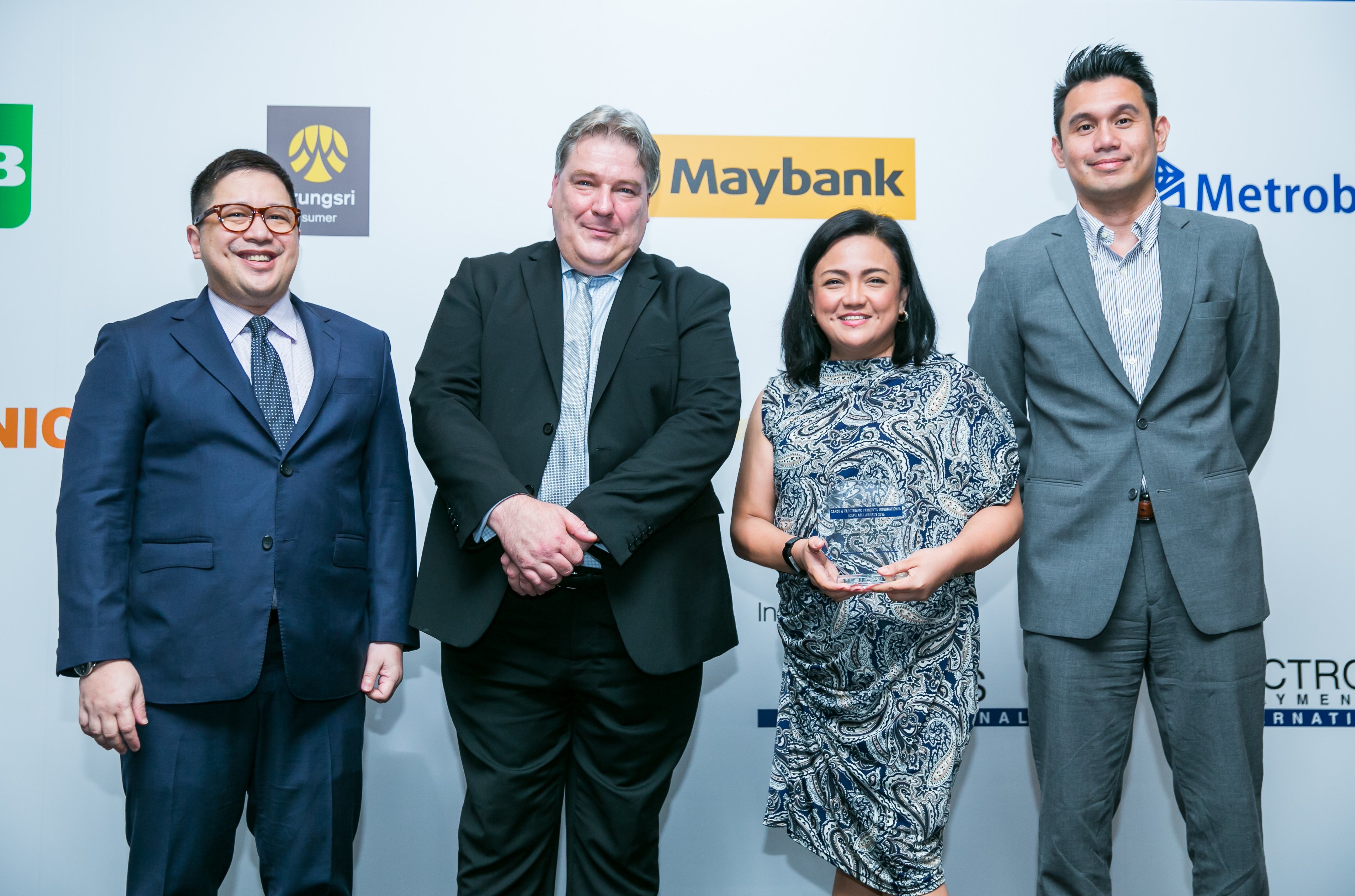 The MCC delegation composed of Francis Ramon Tioseco – VP, Marketing Head, Aloysius Alday – SVP, Head of Prepaid and Insurance Business, and Peaches Cuenco – SVP Deputy Cards Head, accepted all six awards at the CEPI Asia Awards Gala Dinner held at Hilton Singapore on the 6th of September 2018. A daytime Summit was conducted on the same day which brought industry leaders the opportunity to address key industry issues.
For more information, visit the official CEPI Asia Awards 2018 website.